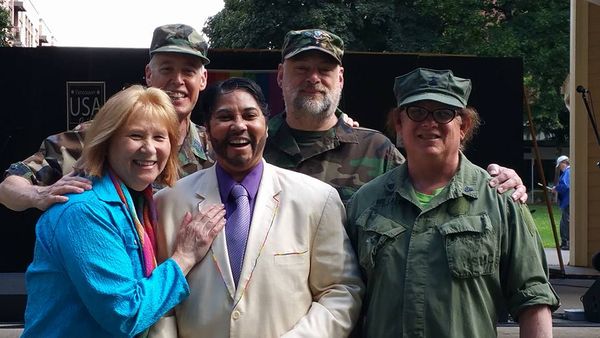 NONE OF THE ABOVE is a 90 minute show that easily tours to most venues. It is a hilarious solo comedy about race, gender, sexuality, and coming out with Diana Ross. The New York Times called it "a rollicking rollercoaster" and it got Lanier named one of the "Funniest Lesbians in America" by CURVE Magazine. A table, a chair, and a mic is all Jennifer needs to entertain at a college, theatre, queer center, or club for an audience of 40-900. 
From CURVE MAGAZINE (December 2009) ---- Watching Jennifer Lanier on stage performing her one-person show, it's easy to imagine her having multiple personalities—even more of them than her two-spirit identity might sug- gest. Without the advantages of makeup or costume changes, Lanier literally transforms on stage, completely embodying a parade of characters that range from her child-self to her military father, known only as the Colonel.
Lanier, a Vancouver, Wash. lesbian also known as Bruce the Drag King, is a classically trained actor whose most notable gig was a four-year stint replacing Sally Struthers as spokesperson for the Christian Children's Fund.
Her play, None of the Above, is a lovely historical exploration of race, gender and sexuality in America and her own journey through childhood in the south. As a tomboy who developed crushes on girls, Lanier was acutely aware of her di erences. But it wasn't until Lanier was an adult that she discovered why her hair was straighter or why her skin was lighter than the other African American children.
Rather than providing clarity, the knowledge of her mixed-race heritage pushed Lanier farther outside the boxes and onto a journey of self-discovery. None of the Above is the result. It's a remarkable performance that burrows into your brain and ruminates there for days. 

Stand up sets are available from 10-15 minutes with feature sets of 20-30 minutes.

Drag King emcee/performances by Jennifer's drag king character Bruce TD King are also available for any occasion.
Coaching & workshops on Playing Different Genders availa